Last Revised:

02 Sep 2020
Written by Veloxity CRM Time Estimate: About 1 minute to read. Veloxity 2.0
Step-by-step guide
To delete a Linked Record, click the X to the right of the Linked Record you want to delete.
Deleting a Linked Record does not delete the record from the system. Delete will remove the link to the data record from the current record view.

Sales Quotes are an exception. Deleting a Sales Quote will delete the quote from the system.
You are looking at a screenshot demonstrating how to Delete a Linked Record: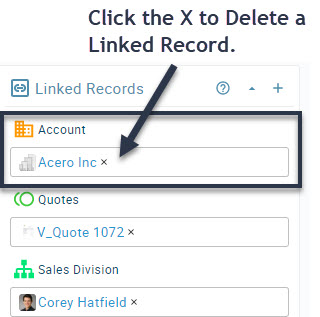 Figure 1.

Delete a Linked Record.
Related records