Last Revised: 04 Mar 2020      Written by Veloxity CRM    Time Estimate: About 6 minutes to read. 
Using Sales Divisions (5:16)
Contents
Jump to the following sections to learn more about Working with Sales Divisions in Veloxity CRM:
What are Sales Divisions?
Definition
A Sales Division is the aspect of a business that is responsible for selling products or services. Sales Divisions, or Territories, represent a customer group or geographic area over which either an individual salesperson or a sales team has responsibility. 
How can I use Sales Divisions?
Use Sales Divisions to Answer Questions
Sales Divisions allow sales reps and managers to quickly answer the following questions:
What have I closed? / What has the team closed?
How am I tracking? / How is the team tracking?
What do I have to do to get to my quota? / What do we have to do to get to our quota?
Veloxity CRM enables easy visualization and management of sales reporting structures. Sales Divisions enable you to set quotas, assign leads, and visualize the sales pipeline at different levels in the direct reporting or territory structure.  From this same view, you can see the current progress for each level of your organization's sales structure within each forecasting period. Sales Divisions visualize the following data for a forecast period from both an individual and an aggregate view:
Quotas – Quotas are the sales target for a specific forecast period.
Forecast – A Forecast is an achievable projection 

estimating what your business's sales are going to be at a future date. The forecast period is generally measured either monthly, quarterly, half-annually, or annually.

Actual Sales Amount – The Actual Sales Amount is the actual current sales revenue.
In Sales Division Management, visibility rolls upward.
For large territory-based organizations, you can view the sales stages at specific territories where all the sub-territories' data rolls up.  
In a direct reporting hierarchy, each account manager is defined as having a direct report sales manager who can view their direct reports and all the reports' data.
Where can I find Sales Divisions?
Sales Divisions are located on the Main Menu under Sales Divisions.
Navigating Sales Divisions
You are looking at a screenshot of a Sales Division Hierarchy.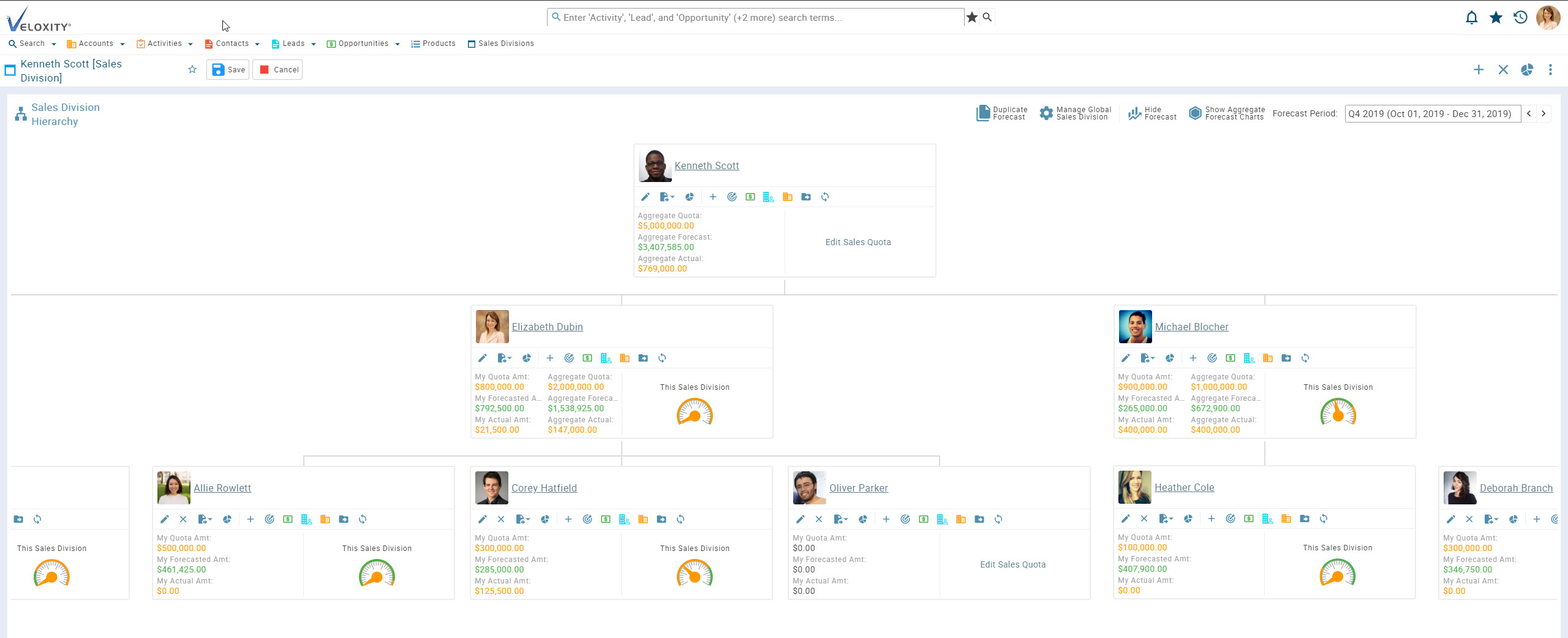 Figure 1. Sales Division Hierarchy.
How can I use Sales Divisions?
Forecast View
Sales Forecasts display your estimated sales income for a given time period based upon the Opportunity Stage, Sales Stage Probability, and the Opportunity Close Date.   
Forecasts allow you to predict sales growth and anticipate changing market trends. Forecasts are an important strategy to prepare your business for the future and make more informed business decisions regarding how your team manages resources.
To turn on forecast view, be sure that View Forecast is selected in the upper right toolbar as shown below: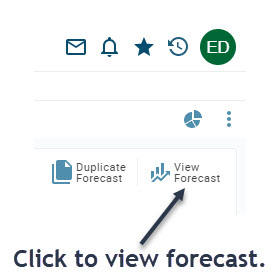 Figure 3. View Forecast Tool. 
Setting a Quota
You are looking at a screenshot of a Sales Division record.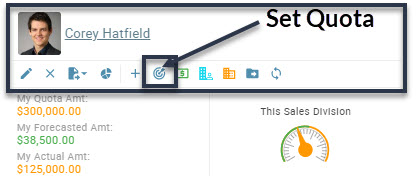 You are looking at a screenshot of an individual salesperson in a sales division hierarchy.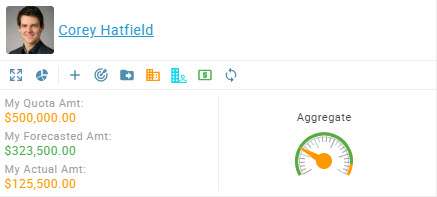 Figure 4. Working with Quotas and Forecasts.
Sales Divisions help you identify the gap between your forecasted sales and your quota to help you structure your workflow to meet your target. 
Data rolls upward. You can see these statistics for your own quota and for those underneath you in your sales division.
Looking at Figure 4, you can see the following data:
This salesperson has a Quota (My Quota Amt) of $500,000 for this forecast period.
This salesperson is tracking (My Forecasted Amt) to bring in $323,500.
The actual amount of sales to date (My Actual Amt) is $125,500.
My Quota Amt ($500,000) - My Forecasted Amt ($323,500) = $176,500
To reach his quota, this salesperson needs to bring in an additional $176,500. He will either need to bring in more leads or close more opportunities to bring in more sales.
In addition to bringing in $176,500, this salesperson also needs to close $198,000 of his current open opportunities.
This salesperson has currently brought in $125,500 of his Forecasted Amount ($323,500).
This means he is currently working on Opportunities forecasted to close this period totaling $198,000. 
Forecasted Amount ($323,500) - Actual Amount ($125,500) = (Open Opportunities forecasted to close) $198,000 
The Gauge Chart offers at-a-glance visualization of the actual amount (the hand on the dial) + the forecast amount (green) / quota amount (orange). Hover over the Gauge Chart to see totals. 
Sales Divisions Tools
Sales Division  Hierarchy
You are looking at a screenshot of Sales Division Tools.

Figure 5. Sales Division Tools. 
The numbers below correspond to the numbers in Figure 5:
Function Name

How to Use
1. Duplicate Forecast
Click to duplicate the forecast details for the currently selected forecast period. 
2. Hide Forecast
Click to hide forecast information. This saves screen space if you have a large sales division.

3. Show Relative Forecast Charts

    Show Aggregate Forecast Charts

Click to show relative forecast data in charts.

Click to show aggregate forecast data in charts. 

4. Forecast Period
Click to select the period for the forecast view. 
5. Sales Division Charts
Click to manage saved charts or to create a new one from this data. See Charts for more information.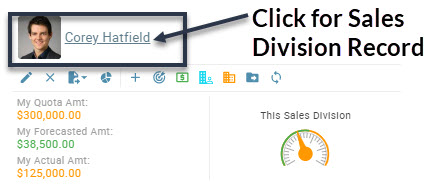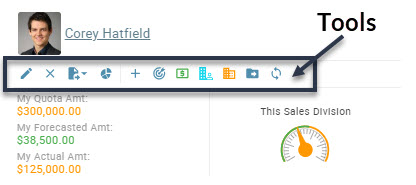 Related articles