Last Revised: 05 Jun 2020      Written by Veloxity CRM    Time Estimate: About 5 minutes to read. Version 2.0
Contents
Jump to the following sections to learn more about Chart Builder:
What is Chart Builder?
Definition
Chart Builder allows you to easily manage saved charts, and/or create new charts from any data table.
Chart Builder is represented by the pie chart icon

in the upper right corner of the screen. 
Click Charts 

 to access Chart Builder. 
How can I use Chart Builder?
Charts are powerful data-backed visualizations allowing you to quickly analyze large amounts of information.
Chart Builder is interactive and highly configurable. With just a few clicks, easily answer questions about your sales process through powerful visualizations.
Where can I find Chart Builder?
Click Charts 

 to create new charts or manage saved charts. Charts

are located on data tables. 
Navigating Chart Builder
You are looking at a screenshot of Charts

on a data table: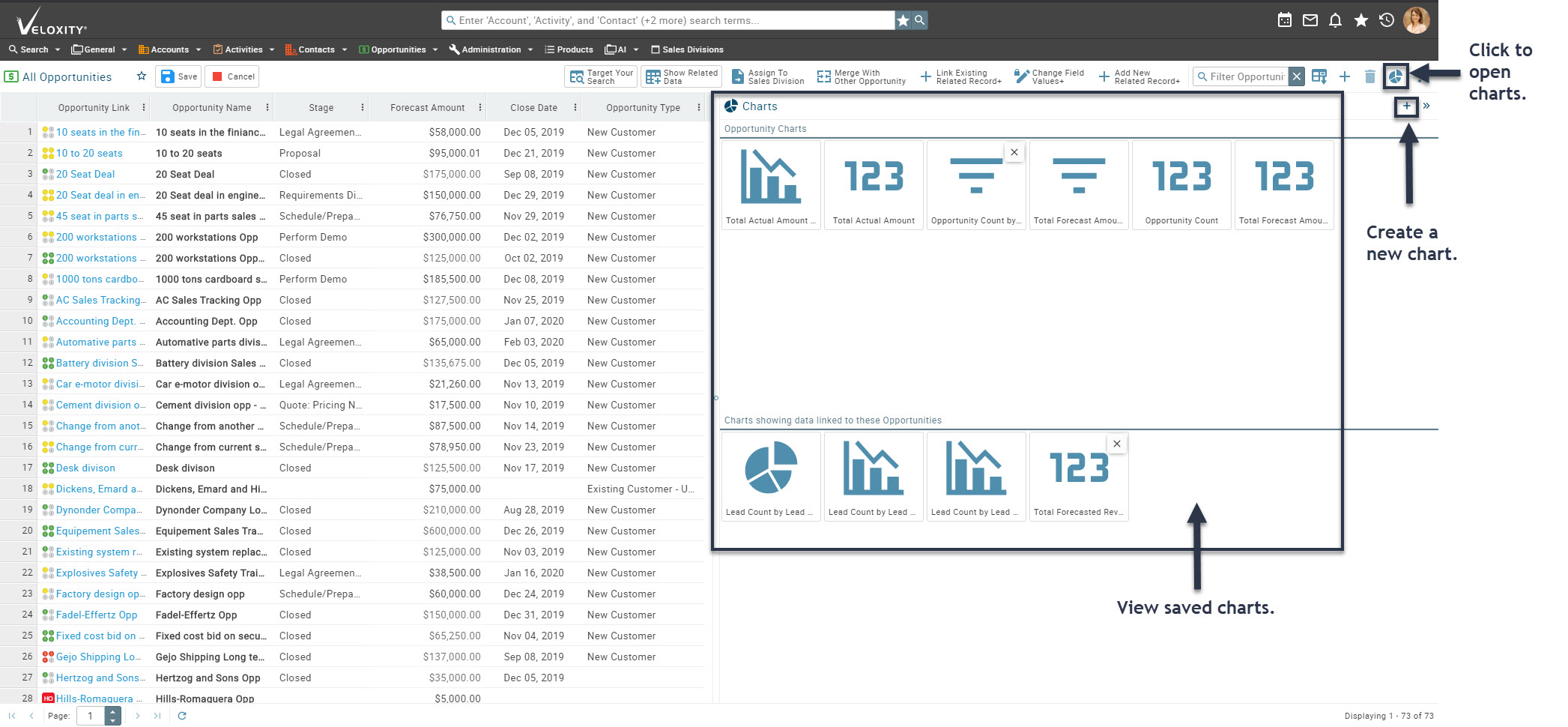 Figure 1. Navigating Charts.
How can I use Chart Builder?
Chart Builder is intuitive. Chart Builder will show the charts that work with the data type (Accounts, Activities, Contacts, Leads, Opportunities, Sales Divisions) you are viewing.

Chart Builder also lists charts showing related data. 
In Chart Builder, you can select from two options for managing charts:
Select a saved chart. 

Create a new chart.
Viewing a Saved Chart
Saved Charts are listed in tile view. There are two kinds of Saved Charts:
 Administrator configured Charts which cannot be changed.
User configured Charts which can be updated or deleted depending on your access privileges. (Note that If there are no saved charts, then this area will be empty.)
Click the Chart you wish to view. The Chart automatically opens.
Create a New Chart
Select Chart Type
Click + in the upper right-hand corner to Create a New Chart. 
Select Chart Type.
Click Create Chart. 
For more information on Chart Types, visit How can I select a chart type?

Figure 2. Create a New Chart: Select Chart Type.
Define Chart Series
Veloxity guides you through this process using an intuitive, fill-in-the-blanks process.
Define the

chart series

, and click

Create Chart

. (For detailed instructions view

How can I define a chart series?) 
In this example, we are looking at a metric chart that visualizes the total amount of all opportunities.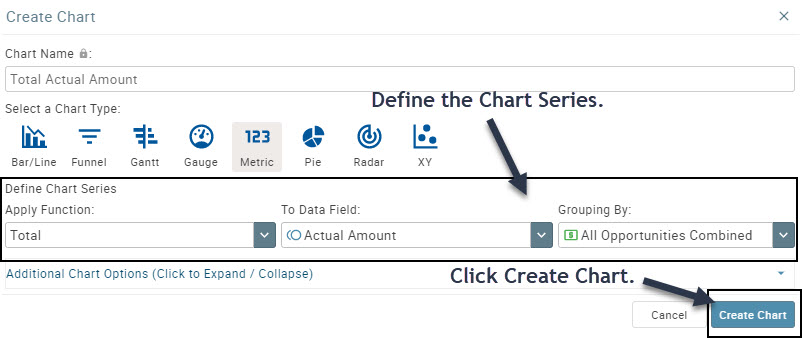 Figure 3. Define Chart Series.
Integrated Chart from a Data Table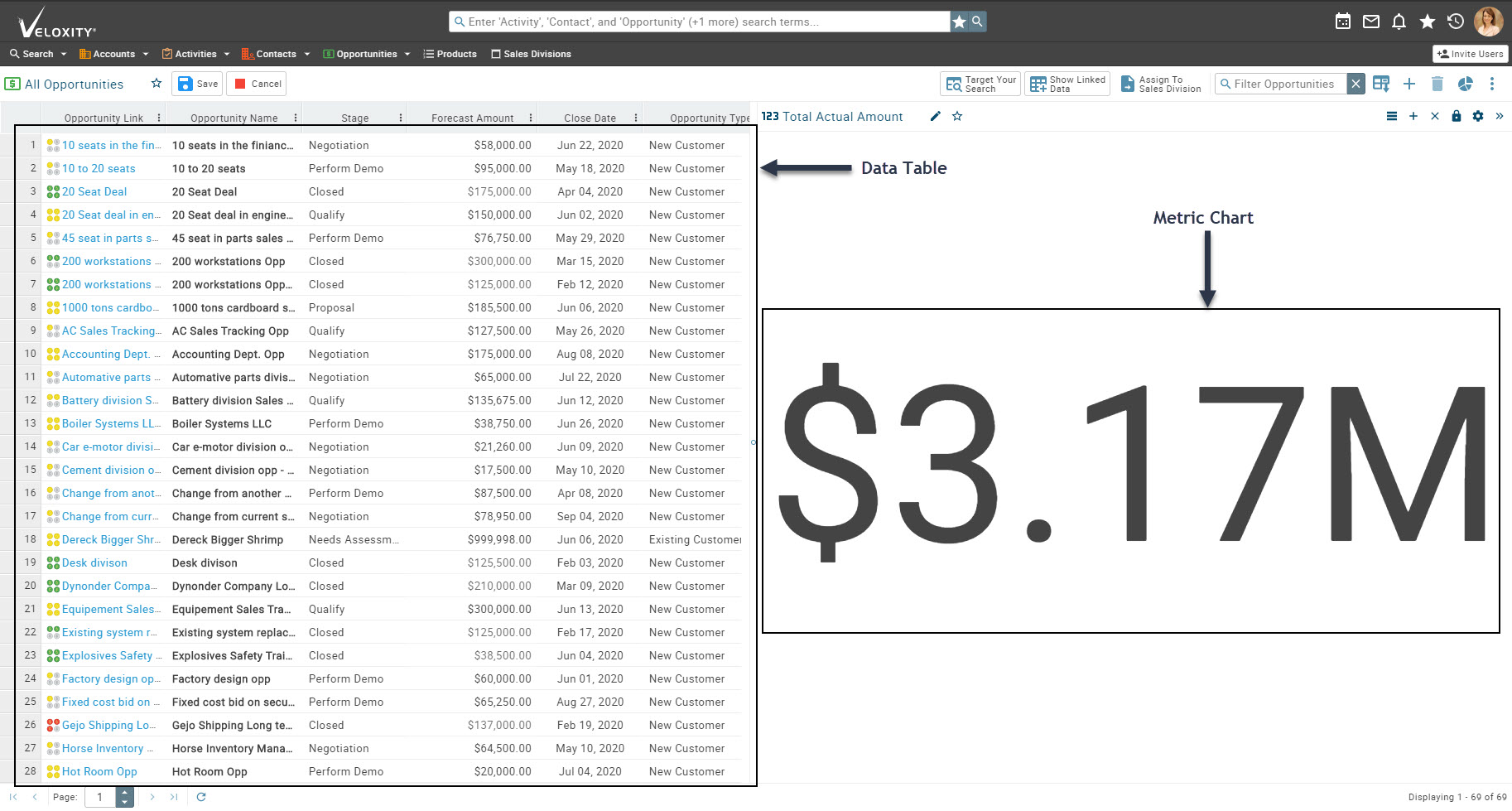 Figure 3. 
View Chart. 
When you are viewing a data table, you have the option to simultaneously view a custom chart beside the data table.
The Data Table and the Chart work together: when you update the Data Table, the Chart will update. When you update the Chart, the Data Table will update.
To turn off the Chart View, and return to the full table view, click the Chart symbol. 
Related articles