Last Revised:

 

06 Dec 2019

   Written by Veloxity CRM    Time Estimate: About 2 minutes to read.
Step-by-Step Instructions
Learn how to view a saved chart in Veloxity CRM.
You are looking at a screenshot of Chart Manager:

Figure 1. Chart Manager on Toolbar.
Step One
Navigate to the Toolbar on the data type where you would like to view a saved chart.

Click the Chart Manager symbol.  (See Figure 1.)
For example, Figure 1 shows the Chart Manager on the Opportunity Kanban. Clicking Chart Manager will open the Opportunity Charts. If you navigate to Sales Divisions, and click Chart Manager, you will open the Sales Division Charts. Veloxity CRM automatically offers choices of chart-types and data fields that work with the data type you are visualizing.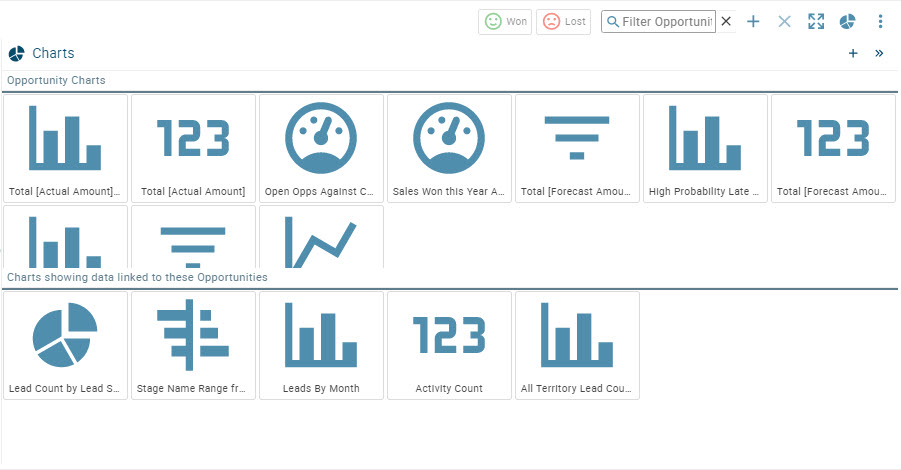 Figure 2. Saved Charts.
Step Two
When Chart Manager opens, you will have access to Saved Charts.

Click the Saved Chart you would like to view.
Notice you will have access to Saved Charts for the specific data type selected. Navigate to the data type for the charts you wish to view.

Notice the second tier of Saved Charts displays Charts showing data linked to this data type. 
Resources
Additional questions, feedback, or need more help? Click Learn More.