Last Revised:
 

05 Jun 2020      Written by Veloxity CRM    Time Estimate: About 5 minutes to read. Version 2.0



Veloxity Inbox (5:47)
Contents
Jump to the following sections to learn more about Veloxity Inbox:
What is Veloxity Inbox?
Definition
Veloxity Inbox integrates your Email with Veloxity CRM's innovative inbox features designed to save time and increase productivity. 
How can I use Veloxity Inbox?
Sync email, share email with your team, use customizable templates, and automatically link email to Contacts and Opportunities.
Read, forward, reply and view attachments right in the CRM.
Where can I find Veloxity Inbox?
Veloxity Inbox 

is found on the top right hand corner of your screen. 
Navigating Veloxity Inbox
You are looking at a screenshot of Veloxity Inbox.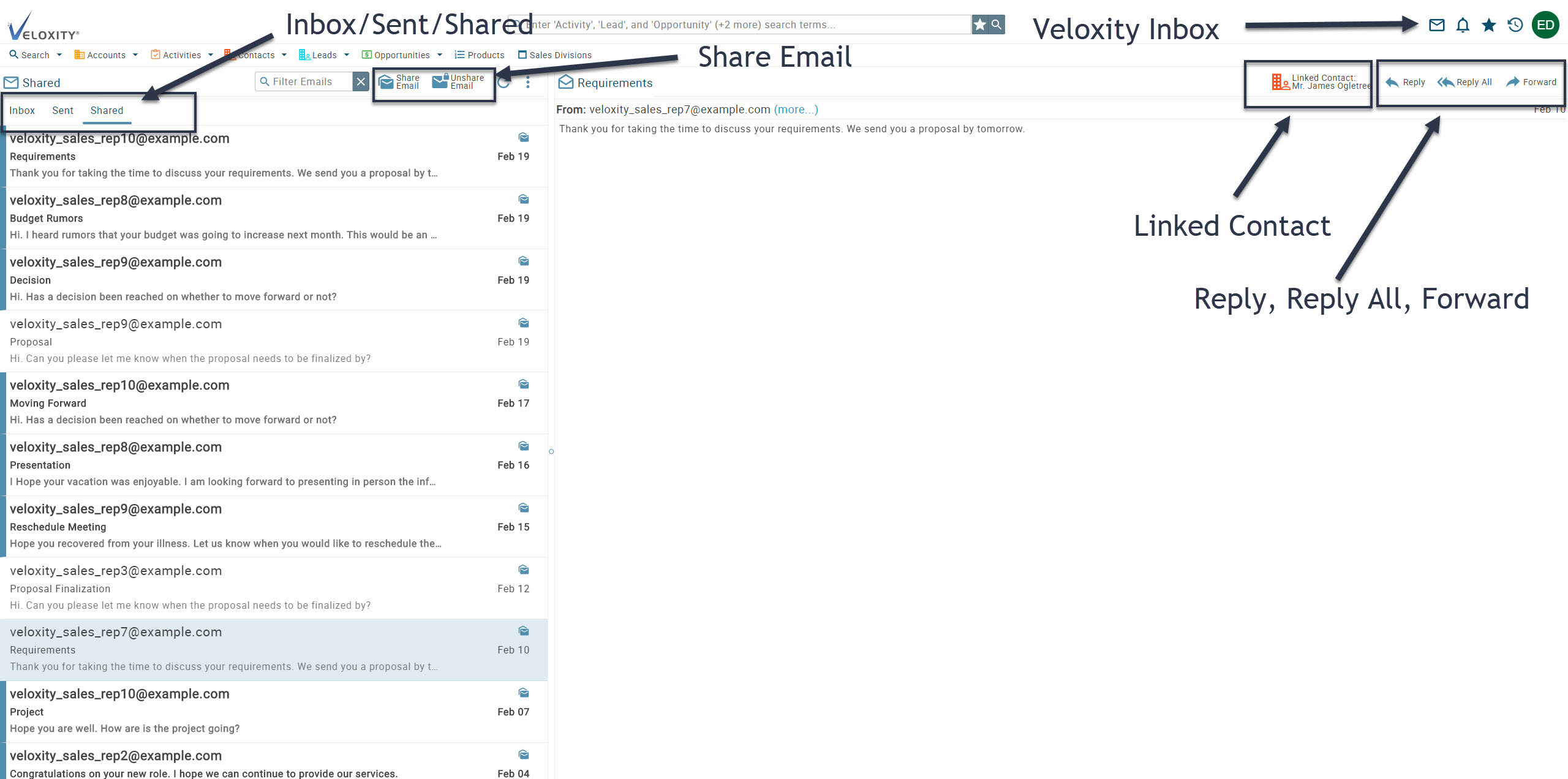 Figure 1. Veloxity Inbox. 
How can I use Veloxity Inbox?
How does Veloxity Inbox know which email to sync?
Veloxity Inbox syncs email by using the email addresses saved on your Lead Records and Contact Records in the Veloxity system.
Figure 2 (below) shows an example of an email on a Contact Record. This email is used to sync incoming emails to Veloxity CRM.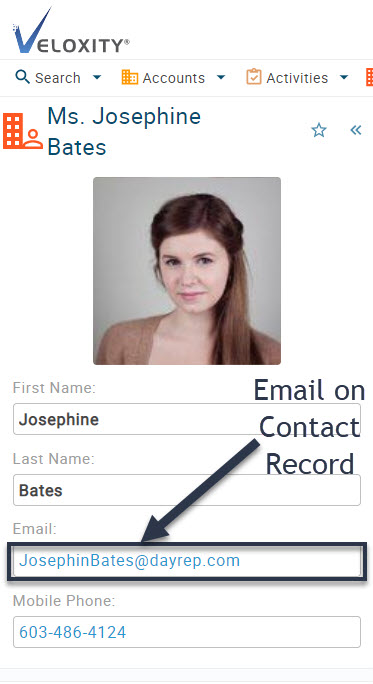 Figure 2. Email on a Contact Record.
View Email

Figure 3.
View Email.
Click the refresh button to check for new email. 

Notice that unread emails are BOLD.
Shared email are designated by the shared icon
.
Click an email to view the contents.
Reply to Email

Figure 4. Reply to Email. 
Reply
Reply will only respond to the sender of the email.
Reply All
Reply all will respond to every contact on the email thread. Anyone who has been cc'ed on the email will be included.
Forwarding
Forwarding an email allows you to enter a new email address and send the email to additional recipients.
CC means Carbon Copy
The cc list can be seen by those on the email thread. Contacts CCed can receive future emails on the thread when recipients use Reply All.
Bcc means Blind Carbon Copy
The recipient receives a copy of the email, but their email is hidden from others. They will not receive future emails on the thread.
Share Email

Figure 5.
Share Email. 
What is Share Email? 
Emails are automatically linked to related Lead Records, Opportunity Records, and Contact Records.
Share Email allows users with record-level privileges to view these Emails. 
This feature allows the team to easily stay up-to-date with correspondence and information related to the Opportunities you are working to close.
To view the emails related to a record:
You need access privileges to view activities related to the record.
The email has to be shared.
If the email has been shared, and you have access to activities related to those records, then you will be able to view the related email.
While your Emails won't be seen by others unless you share them, note that users with administrative privileges are able to view all emails whether or not they are shared. 
What is Unshare Email?
If you have previously shared an email, clicking Unshare will stop Sharing the Email. Users will no longer be able to view the email.
If someone makes a copy of the email, Unshare will not impact this copy.
View Records Related to the Email

Figure 6. View Records Related to the Email. 
Records related to the email are shown as links.
For example, here you can view the Contact, Mr. Matthew Cates, linked to this email. Clicking the link redirects you to the contact record.
Attaching Files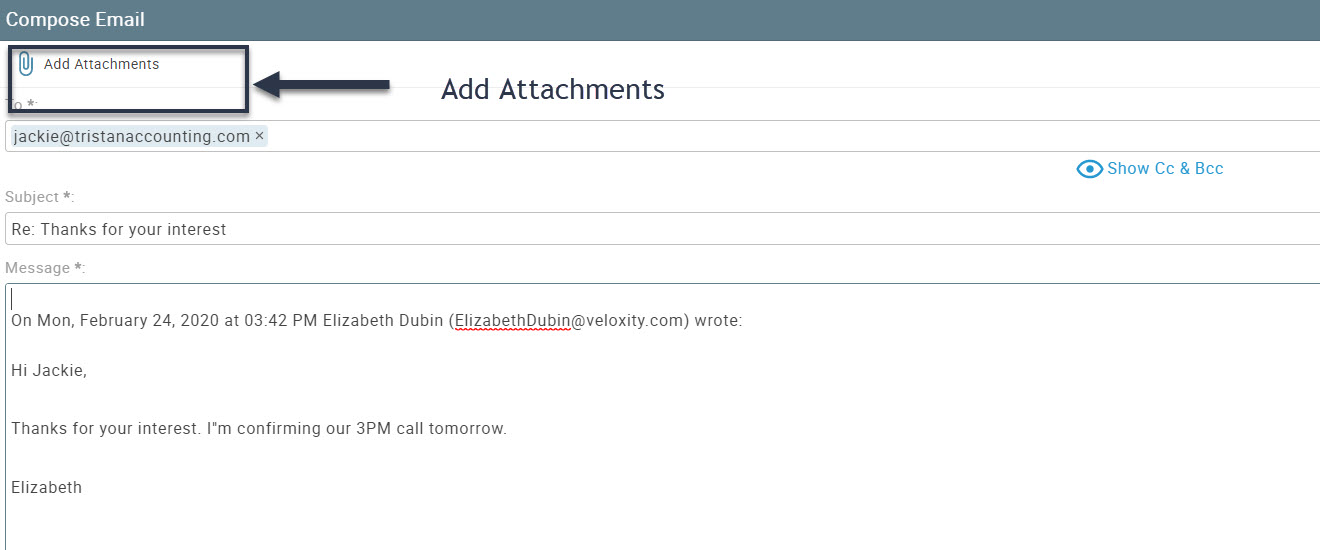 Figure 7. Attaching Files.
Open the email where you'd like to send an attachment.

Click Add Attachments.

Click Choose File.

Select the File you wish to Attach.

Click Submit.

Your recipients will now have access to the attached file.
Filtering Email

Figure 8. Filtering Email. 
Quickly filter email using the Filter box.
Enter the filter terms to retrieve related emails. For example, if you wanted to find emails related to "Worth Accounting" you would enter "Worth" into the Filter box.
To remove the filter, click the X. 
Syncing Past Email

Figure 9. Syncing Past Email.
Veloxity Inbox only shows emails related to the Lead and Contact email addresses recorded in Veloxity CRM.
If the email is not recorded in a Lead or a Contact record, then the email will not be synced.
When you enter a new Contact Record or a new Lead Record, you also enter an email address. That email address is used to sync related emails to Veloxity CRM.
Emails sent prior to the contact being in the CRM were not captured.
There will be times when you need to sync emails from the past.
This is useful for emails sent before the contact was recorded in Veloxity CRM.
To sync emails from the past,
Click the overflow menu on the Inbox toolbar.
Select Refresh Inbox Including History.
The dialogue lets you know that this refresh will not duplicate emails, but it may bring previously deleted emails back into the system.
Click Yes.
Veloxity Inbox will update to sync past emails from newly added Leads and Contacts.
Using Templates
Templates are preformatted documents. Templates serve as starting points allowing you to quickly and easily create new documents. 
Click Apply Template to select an Email Template. 

Figure 10. Selecting an Email Template.
Related articles