Last Revised:

15 Mar 2021

Written by Veloxity CRM Time Estimate: About 5 minutes to read. Version 2.0
If you are a new user, this article will help you set up your new Veloxity CRM account. The steps below will guide you through this process.
If you are an administrator setting up Veloxity CRM for your business, please visit eGuide: Getting Started with Veloxity CRM (for administrators)
Step One: Navigate to Veloxity CRM
To get started using Veloxity, navigate to www.veloxity.com and login to your account.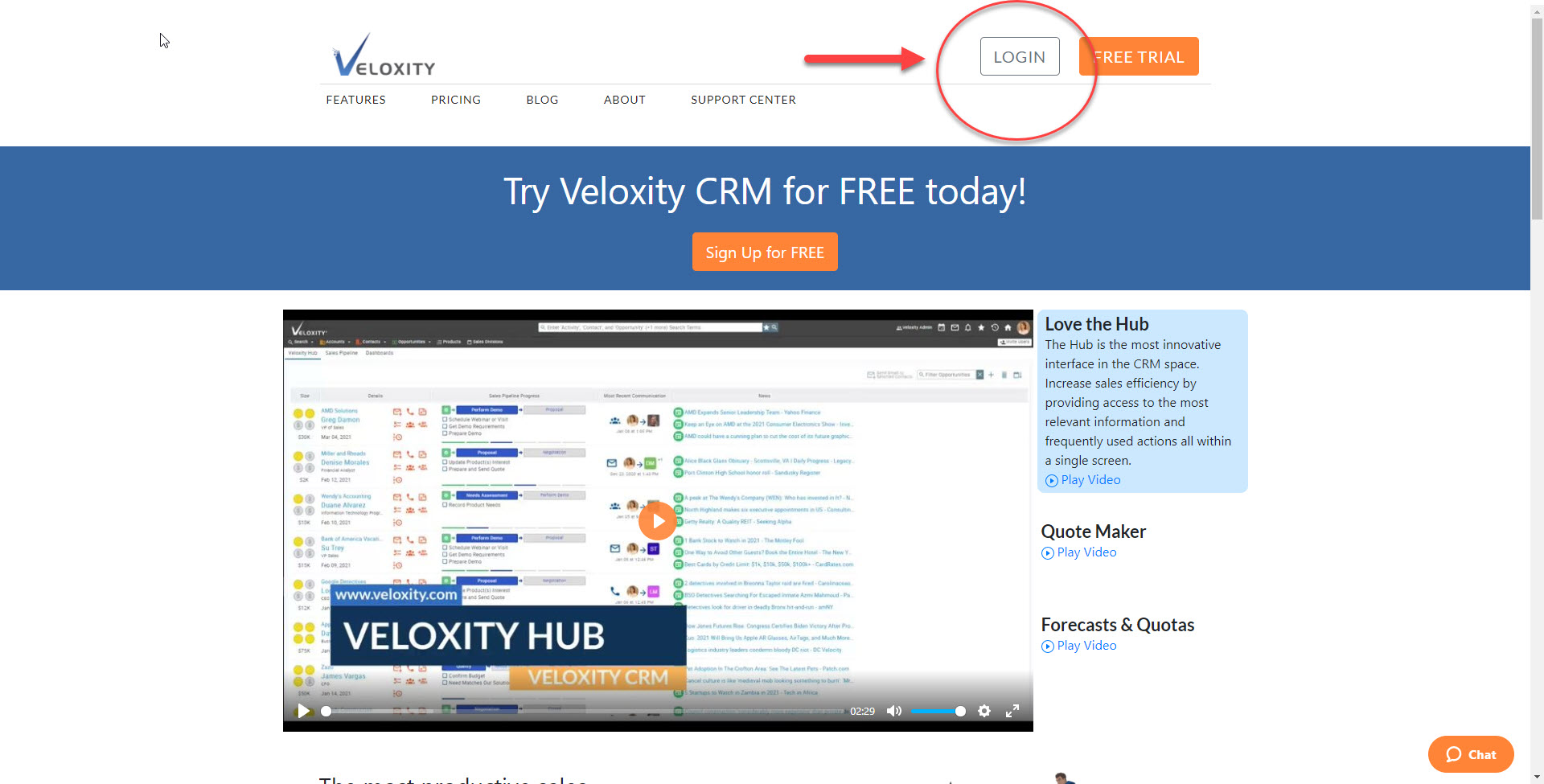 Step Two: Login to Your Account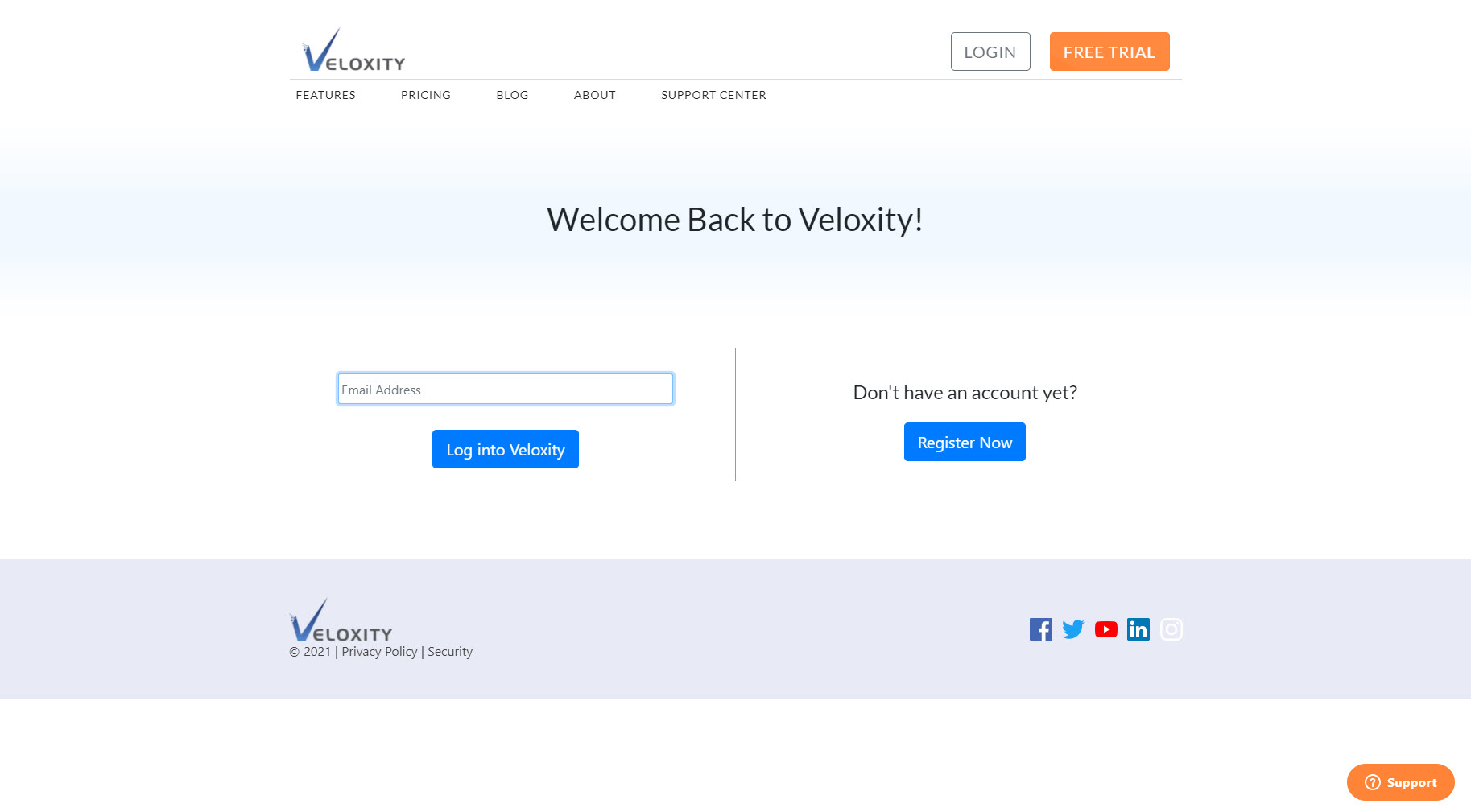 Enter your email address and Veloxity CRM password.
TIPS
Enter Email Address
If you have received an email inviting you to join Veloxity CRM, use the email address where you received the invitation when you register.

If you are an administrator configuring Veloxity for our organization, go to eGuide: Getting Started with Veloxity CRM (administrator setup).
Enter Password
Be sure your password contains the following:
At least 8 characters

At least one letter

At least one numerical digit
Step Three: New System Checklist
At the top of the screen, find the New System Checklist:

Follow this checklist to set up your account:
Click Setup Profile Information to enter your professional details and set a profile image.
Click Setup Email and you will be prompted to configure your email and calendar. You have the opportunity to create an email signature and sync Veloxity with your Google Calendar and Gmail accounts.
You are now ready to begin using your Veloxity CRM account!
If you have any questions, please contact our support center for help.
Next Steps
As a new sales user, you will want to learn the system features needed to manage sales opportunities.
We recommend starting with the following features (in this order):
System Navigation
My Profile
Using the Veloxity Hub
Using the Sales Pipeline
Using Data Records
Veloxity Inbox
Visit our Learning Resources page.
Veloxity CRM Features Guide
The following table lists many of the features in Veloxity CRM. Click on the feature name to be redirected to related articles.
Name

Description

Accounts represent the companies with which you have a relationship. These companies are often customers or prospective customers. Accounts could also include vendors, business partners, and non-business organizations such as government, healthcare, and education. Accounts are the places where your Contacts work. Record the businesses with which you have a relationship under Accounts.

Activities are the actions you perform throughout the sales process. Activities function as your daily to-do list.

Calendar View visualizes your activities in a calendar format. Veloxity Calendar integrates with Google Calendar allowing you to see all of your activities in one place.

A Chart is a visual representation of data. Veloxity has two main charting features: Chart Builder and Chart Viewer.

Contact Roles allow you to define the role a contact plays in a specific opportunity. The role may be different than their job title.

Contacts are people. Contacts are often involved in the purchasing of your product.

Contacts are often related to Accounts and Opportunities.

Data is organized into Data Tables. A Data Table is composed of Records (rows) and Fields (columns) that hold Data.

Each Data Table holds Data about a different, but related, subject.

Send and receive email within Veloxity.

Email and Calendar Setup syncs your current email account with Veloxity CRM.

Favorites allow you to save the location of your favorite data in Veloxity CRM.

The Hub is your Veloxity Home Page. Use the Hub to quickly access the information you need from a single view.

Veloxity Inbox integrates your Email with Veloxity CRM's innovative inbox features designed to save time and increase productivity.

The Opportunity Kanban allows you to visually track your Opportunities through each stage of the sales pipeline. Each of your Opportunities is represented by a tile that moves from left to right through each stage of your sales process. The Opportunity Kanban is made up of a series of different sales stages that form the sales pipeline.

A Lead is a prospective sales opportunity.

Leads come in through many different sources: trade shows, web forms, conversations. The first step in the sales process is to figure out if a Lead is a legitimate sales opportunity. To do this, a Lead is nurtured through the Lead Qualification Process. Leads you wish to engage with are converted into Opportunities. Leads that are not a good fit for your business are filtered out. The Lead Record is a temporary record. The length of time a Lead stays active in your system depends on your sales cycle.

Linked Records are individual data records that show up as a link in the Linked Records Panel. Linked Records visually connect related data from a single record view without duplicating information.

My profile is a record of your preferences and personal details in Veloxity CRM.

News Feed provides current international, national, and local news about your Accounts, Leads, and Opportunities through an interactive tile view. News Feed offers a rich source of continuous information organized from thousands of publishers and magazines.

Notifications function as an internal messaging system for your company. Improve internal communication by using Notifications to send and receive brief messages with your team. Quickly send announcements to individuals, groups, or the entire company using Notifications.

An Opportunity represents a potential sale to a qualified prospect that you are working to close.

Quick Search queries all data records for the data types selected for any fields containing the search terms.

Search results display in a table format.

If only one record matches the search query, the record will be displayed in form view.

Quick Search enables searching for Data Records and Documents across the entire Veloxity CRM system.

Quote Maker is a robust Quote management tool enabling you to create and send quotes from Veloxity CRM.

Recent Places keeps a chronological history of the last 15 Veloxity CRM web pages you visited.

A Sales Division is the aspect of a business that is responsible for selling products or services. Sales Divisions, or Territories, represent a customer group or geographic area over which either an individual salesperson or a sales team has responsibility.

Timeline collects and displays information about recent activities and field changes related to your data records. Timeline allows you to visualize changes and updates made to your data records quickly.

User/Group Roles grant record-level privileges to users in Veloxity CRM. These roles determine what information a user can view, and what actions the user can perform with the data.

Record-level privileges include actions such as viewing, editing, and deleting data records.

Web Conferencing syncs your current web conferencing account with Veloxity CRM.